Secure file sharing – AirDrop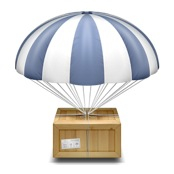 Out of all the ways to share files AirDrop is possibly the most underrated and least known way. AirDrop is one of the great new features of OS X Lion and later, which provides a really easy way to share files between supported Wi-Fi-enabled Macs without having to connect through the local Wi-Fi network. (excerpt from the Apple website) That's great, so why write about it here? Because it is fast, easy and yes, secure.
AirDrop uses the built-in Wi-Fi to connect to another Mac directly. So even if you are not on the same Wi-Fi network as the person you want to send a file to, the two Macs will create their own little network and the file can be sent. You could be in the middle of a park, as long as the Macs are in range of each other (roughly 30 feet / 9 meters), AirDrop will work. This is very convenient for a home or small office/department environment and can be used as primary means of file sharing or for quick shares while the long term storage and office-wide sharing is handled by a server for example. Some of the benefits:
– You do not have to enable File Sharing.
– You do not have to create user accounts.
– Once the AirDrop window is closed the connection is terminated (once active transfers are done).
– No setup required.
– Good security that does not depend on the security of an available Wi-Fi network.
To use this you will need one of the following Macs:
– MacBook Pro (Late 2008 or newer)*
– MacBook Air (Late 2010 or newer)
– MacBook (Late 2008 or newer)*
– iMac (Early 2009 or newer)
– Mac Mini (Mid 2010 or newer)
– Mac Pro (Early 2009 with AirPort Extreme card, or Mid 2010)
* The MacBook Pro (17-Inch Late 2008) and the white MacBook (Late 2008) do not support AirDrop.
So how is this secure?
Files are encrypted using TLS as they're copied, and a firewall is created between the sender and the recipient so that no one could ever take a look at the data inside that connection. As soon as the AirDrop window is closed you are no longer visible in other people's AirDrop window. Unlike file sharing which is permanently enabled, this does not give a potential hacker enough time to try and hack the connection. File sharing can be tried again and again continuously until a weakness is found (weak password), this can not be done to AirDrop.
AirDrop is not the perfect file sharing solution for everyone. Take some time and try to implement it in your home or department, find a good use for it and if it really does not add anything to your file sharing experience then at least you now know it's there and how it works 🙂
---