Antivirus detection rate list updated, some changes in rank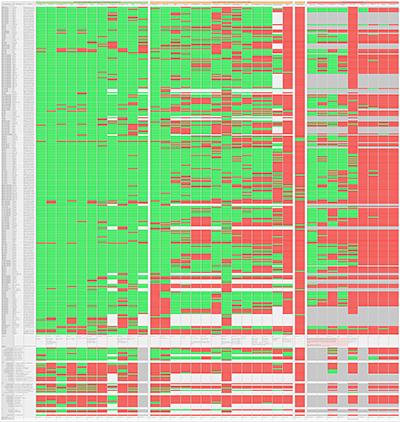 A shuffle in rankings for the AV applications that tested with an 80% or better detection rate. I won't list them all, just check out the PDF but the biggest changes are Panda Antivirus dropping 6 places, Intego VirusBarrier 2013 climbing to 3rd place with Avira climbing to 4th place. MacKeeper and iAntivirus are no longer with us as they dropped below the 80% detection rate threshold. Dr.Web refuses to let me register a new trial license even when installed in a clean VM using completely different credentials so until a solution has been found it's results have not been updated either. Also, Intego VirusBarrier X6 has been excluded from future testing as it simply performs worse every time samples are added. Updating virus definitions means you have to upgrade to VirusBarrier 2013.
I gave ClamXav another run against all the samples and it unfortunately lost almost 5% of it's detection capabilities as it didn't recognize most of the new samples. Old samples that were not found before were re-scanned and they went undetected still meaning little to no work has been done on it's definitions database.
Of course all samples (old and new) were clicked, double-clicked and right-click-opened to see if OS X's own XProtect had improved but as expected it will not protect you like an antivirus application will. One RSPlug sample, a new FkCodec sample, a new Okaz sample and a new Yontoo sample were blocked since the last test but that's all.
Sophos or Avast are still the best when it comes to detecting malicious files from the sample pool but when it comes to finding malicious files hidden throughout the system Intego's VirusBarrier 2013 outperforms them both.I'll be working to fill most of the gaps over the next few days to make the chart more complete and the review for the new Sophos V9 is alsmost done as well.
UPDATE: F-Secure results have been updated too, the PDF reflects the latest changes.
---