Uninstalling Applications
As we all know, OS X does not come with a built-in uninstaller. While many do not see this as a problem, i do feel it's an issue. Just throwing an application in the trash leaves files behind all over the hard drive and this clutter can cause your system to run slow down the road. Certain components that are left behind may also cause security risks, with the application gone, those components are no longer being updated. So, properly uninstalling applications is important and luckily for us, there are tools to help us do that.

Before i cover the available tools i'd like to point out you can also manually uninstall. This requires a lot more work on your part but it is very thorough and can offer a means to verify how effective the tools are that i'll cover later. When running an installer (before clicking the 'install' button) check out the menu. Go to the File menu and click "Show Files". This will open a list that shows you exactly which file will be installed in what location. This list can be very helpful if you ever have to manually uninstall an application or get rid of certain pieces for troubleshooting. This list can not be saved or exported but can always be accessed again by opening the installer. A few things to keep in mind:
1. This method only works if you have the actual installer (.pkg), App Store downloads do not offer this functionality.
2. Some applications connect to a server during installation and may download components that were not listed in this list.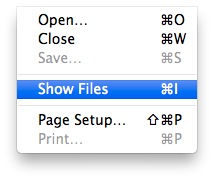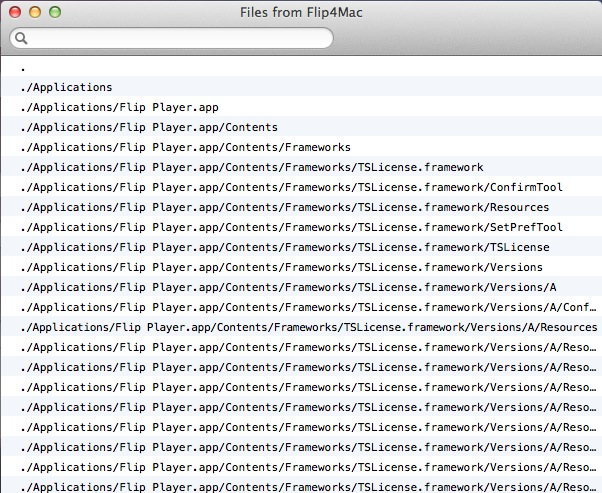 Also, before resorting to using 3rd party tools, see if the application comes with it's own uninstaller. If an uninstaller is provided by the vendor it can usually be found in the Applications folder, the Utilities folder or it can be included in the installer media (CD, .dmg). Applications like Adobe Creative Suite, Microsoft Office and the above mentioned Flip4Mac have their own uninstallers for example. If an uninstaller can't be found, do a quick search on the vendor's website to see if one may be available for download or saved on your Mac in a place that's not so obvious (Application Support).
If a manual uninstall is too much work and an uninstaller is not provided by the vendor, it's time to try some 3rd part tools. There are quite a few but i'll only mention the ones i have first hand experience with or have heard most about.


AppZapper – "The uninstaller Apple forgot", simple and easy to use. Just drag an application on the AppZapper window and it will gather all related files for you. One click on the 'Zap!' button will remove the application, preferences, support files and whatever else it found. The first few zaps are free, after that you have to pay $12.95 to keep zapping so use your free zaps wisely. If you have a few applications you want to get rid off, drop them all on the AppZapper window before clicking the button. This way you can uninstall a lot more apps before you have to pay up. It can also be taken out of 'simple view' and show you all currently installed applications, widgets, preference panes etc. I have never had any issues using AppZapper but for the price it did not offer enough features for me so i moved on to the next option on the list.

CleanMyMac – Uninstalling applications is just one part of the program, it offers a lot more very nice features. The uninstaller can be used by dropping an application on the window or you can browse the list that CleanMyMac compiled for you. It will even show you leftovers, files that don't belong to any application anymore. While the generated and leftover lists are nice, do not take it at face value. I've seen it say an application has not been used for over a year (so you might as well uninstall it) but i know i've used it yesterday. The same goes for leftovers, make sure they are actually junk files you don't need anymore. What i like most is the automatic uninstaller. If you delete an application or file that has other files linked to it, CleanMyMac will open and ask if it can help you get rid of it properly. This feature can be enabled or disabled at any time.

AppCleaner – A simple tool much like AppZapper. Just drop an application on the window and let the app do the rest. You can also choose from the Applications, Widgets or Others lists that have been compiled for you. Easy to use and completely free.
Properly uninstalling applications, system preferences, plugins etc. can make a huge difference down the line. It can keep your Mac running smooth longer and can protect you from serious security vulnerabilities too. While simply trashing an app may be faster and easier, you are not doing yourself a favor by not using an uninstaller.
---