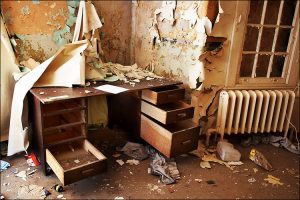 Having a baby, running a business and working on several other projects, something had to give and securityspread.com was it. With the business running smooth and the baby now 5 months old, I had some time to practice time-management in this new situation and I think I have it figured out to a point where old projects can be dusted off and restarted. Of course starting with this website.
So, imagine my office looked like the one in the picture after a year of not being used, it is now cleaned up, upgraded and ready to be used again 🙂
First, a big thank you to all those who have kept in touch during this period of inactivity, I do appreciate it.
The biggest request I received almost weekly was an update to the antivirus tests. As this takes up enormous amounts of time I will not be able to do that just yet. My malware sample sets are very out of date, virtual machines need to be upgraded, test licenses need to be obtained again for the AV products and of course the testing itself takes days. While I have some time to regularly update this site again, testing AV will have to wait.
Thanks for visiting and being patient. Now let's get this party going again.
---