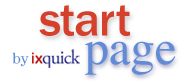 NOTE: October 24, 2016 – An updated version of this content is available here.
I have always used Startpage.com and Ixquick.com in the past but slowly switched to DuckDuckGo over the past few months. Not because I think they offer better security or privacy but because of the easy browser integration and fresh look. I still go to Startpage when the DuckDuckGo results are not good enough for me, I guess I got sucked into the hype as DDG gets far more media coverage than Startpage or Ixquick. So, after doing some side by side comparing I am back to using startpage.com for all my searches, i'll explain why.

Startpage.com and Ixquick.com are run by the same company, they are both private search engines and both offer the same level of protection. Ixquick.com uses up to 10 different underlying search engines to get your search results from, Startpage.com uses just Google results. Which one you prefer better can only be determined after using each for a little while. Both sites handle the searches for you and strip away any personally identifiable information so even if a result comes from Google, Google will never know it was you who did the search. Because both sites offer identical security and privacy I will just use startpage.com throughout this article but everything said here goes for Ixquick.com as well.
While Ixquick has been around for a while, they have only offered privacy and encryption since 2009. This is also the year that startpage.com became available to offer people an easier to spell and easier to remember name. Startpage uses the following methods to ensure your searches are private and secure:
Logs
Your IP, search queries, what site you came from and what site you click on in the results, none of this is logged.
Encryption
SSL (https) is enabled by default and has recently been beefed up to offer Perfect Forward Secrecy (PFS) and more security by upgrading to Transport Layer Security (TLS) v1.1 and 1.2. While SSL is a good way to protect sensitive online traffic, it can be compromised. If someone were to ever obtain the private key for the website, they can use it to decrypt all encrypted data that has been stored in the past. PFS uses a different system, each data transfer has it's own key. So if the private key were to ever be compromised, there is no way to decrypt previously stored encrypted data as every key is different. I mention stored data not because startpage stores it but because governments, government agencies and private contractors do. TLS just adds to the security and is basically the new and improved SSL or an SSL upgrade. In short, as soon as you load startpage.com you disappear into a private room with just two doors and no windows. Noone can see or hear what goes on in this room as there are no windows and the only people with the keys to the doors are you and startpage.com.
Proxy
When a search is performed you get a list of results. As soon as you click on one of these results, startpage drops you off at the selected website. As far as that website knows startpage.com just visited and the site does not know it is actually you. However this is where the startpage protection ends, you are now on a website without SSL, PFS or TLS security and as soon as you click a button or link you become visible to that site. But you don't have to be. The search results all have an option next to it that reads "View by Ixquick Proxy", a great feature.


When you click the proxy link a new window opens and Ixquick loads. Inside the Ixquick page is a frame that loads the site you requested (Java Script required). The website will never know you were there browsing around as it looks like Ixquick just paid a visit, not you. Or as startpage says:
– Startpage goes to the website you select, retrieves the page, and displays it for you.
– You are invisible to the website. They see only Startpage's IP address, not yours.
– Since you never make direct contact with the website, they can't see or store cookies on your browser.
– You can click on linked pages from the website and the Startpage proxy will display those for you too.
– While using the proxy, you are protected at all times by Startpage's outstanding privacy policy. (No IP address recorded, no identifying cookies used, no search or browsing activity stored.)
– The Startpage Proxy Service offers complete privacy and anonymity.
and a minor downside (one that I have found not to be an issue at all);
– The downside is that pages load more slowly, since Startpage must retrieve the contents and redisplay them.
URL Generator
You can tweak startpage settings and set a preferred search language, whether you want search results opened in a new window or not etc. To remember these settings for your next visit a cookie has to be saved to your computer, cookies in general are considered bad for your privacy. So the URL generator was created. Once you have configured the settings the way you like them you can generate a URL and bookmark it. Next time you load this URL the startpage.com server links "https://startpage.com/do/mypage.pl?prf=dbd4549558699e86563476a51a4384970" to "preferred language = english, search results are opened in a new window" for example. No cookie needed and still completely anonymous.
Startpage.com is my search engine of choice. Apart from the above mentioned reasons I find having easy access to an 'Images' category very handy (DuckDuckGo announced the ability to incorporate images in the search results over a year ago and it's still not there. I love the proxy and use it often (No such feature for DuckDuckGo that I am aware of).
However DuckDuckGo has easy browser integration, making DDG your default search engine is easy whereas startpage or ixquick need Glims. Glims is a 3rd party add-on that has been the cause of some stability issues in the past for me so I try to stay away from it*. In the end I choose privacy, protection and features over easy browser integration so I have startpage.com set as my homepage. I do also have DDG set as my default search engine in Safari so if I accidentally type my search in the address bar rather than opening a new tab to load startpage, my privacy is still protected (I find typing my search in the address bar an extremely difficult habit to shake).
Though my preference leans to Startpage this does not mean DuckDuckGo is a 'bad' search engine. They offer good encryption and privacy as well, using either one will keep your searches well hidden from snoopers. In my opinion Startpage just takes it a step further with the proxy. As always, don't take my word or anyone else's word for it. Test it for yourself, do your research, read the privacy policies and make your own decision.
About the beefed up security (https://startpage.com/eng/press/pr-pfs.html)
About the Proxy (https://startpage.com/proxy/eng/help.html)
About the URL Generator (https://startpage.com/eng/urlgenerator-details.html)
* I have written a follow-up article about using Glims to make Startpage your default browser in Safari, find it here.
* If you want to add Startpage to Firefox as your default browser go here.
Who is your preferred search engine? Let me know in the comments!
---